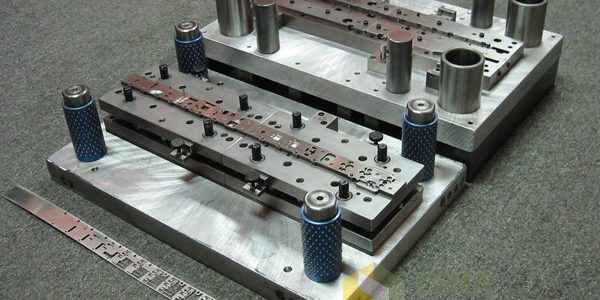 1. Custom sheet metal stamping die and custom plastic injection mold:
Our highly skilled journeymen tool & die makers share their years of expertise to assist in the development of the apprentices that are on their own journey to becoming the next generation of experts in building progressive, compound, transfer, and form tooling for our diverse customer base.
The tool room was designed and developed to support the needs of our team by providing the best in class tooling to our discerning client base. At the heart of this venture is a CNC machining cell that was engineered using lean principles. The team that developed the cell focused on the elimination of waste. In addition to the CNC cell, the tool room is supported by several Wire EDMs, and waterjet cutting that can create development blanks as well as speed up the tool machining process.
Progressive Dies
Transfer Tools (Manual or Automated)
Compound Dies
Form Tools
Pierce Tools
In-Die Tapping & Hardware Insertion
Wire EDM
EDM Hole Drilling
Waterjet to Cut Die Components
Waterjet for Part Development
Fixtures and Turn-Key Special Machines
First Piece Qualification and Documentation
2. Advantage:
Our advantage of custom parts:
Design die/mould in own factory
Make die/mould in own factory
Experience from 1990.
TS16949/ ISO9001 Certificated
>90 Staff, > 10 Engineer
Two Factory 4000 Square Meter
3. Stamping Production Process:
Our process for stamping parts:
(1).Design

Once we made a contract, we will discuss the project with our team, considering all the details, and then start design. Before making the die parts we will send the design to for your approval. Any changes can be modified according to your opinion.

(3).Mass Production

After customer's approval, we will prepare material for mass production, testing the products, qualified products packing, and entering warehouse, and then prepare shipping.
(2).Tooling Process

After drawing confirmed, we will manufacturing the mold according customer's requirement, our mold spare parts are mainly processing by CNC machine, P/G, W/E, EDM Grinding etc. After processing will assembly the mold.

(4).Final Inspection

Final Insepction Report when ship parts.
4. SHOP PHOTO: