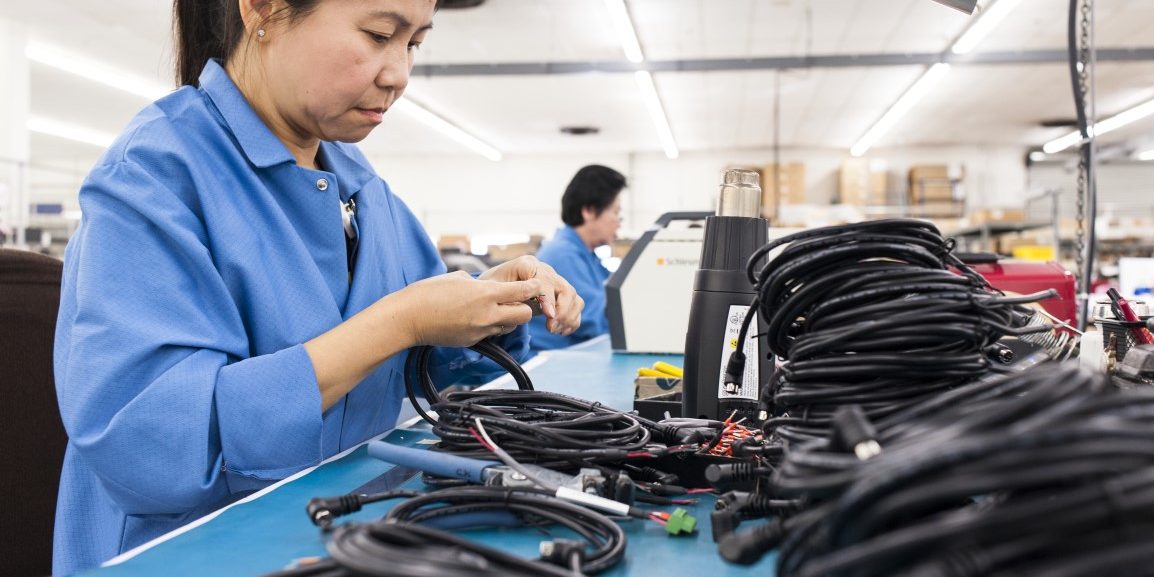 WHETHER A PART REQUIRES STITCHING OF TERMINALS, MOLDING OF MULTIPLE INSERTS SIMULTANEOUSLY, LASER WELDING OR WIRE ATTACHMENT, WE CAN HELP YOU WITH THE PROPER ASSEMBLY METHODS FOR YOUR PROGRAM. WHILE INSERT MOLDING CAN BE THE MOST ROBUST TYPE OF ASSEMBLY, ESPECIALLY WHEN REQUIRED IN THE AUTOMOTIVE OR MEDICAL DEVICE MARKET, OTHER TYPES OF ASSEMBLY CAN OFFER BENEFITS AS WELL.
DEPENDING ON YOUR PRODUCT'S REQUIREMENTS, ZENATECH OFFERS A VARIETY AND COMBINATION OF MULTIPLE SERVICES.
ASSEMBLY TYPES
Manual Assembly  |  This type of assembly can be utilized for low volume or operations that can not be easily automated. We can offer globally competitive services from ourmodern Monterrey, Mexico plant.
Semi Automated Assembly  |  Sometimes it makes sense to automate a portion of a production cell. This integration of top quality automated systems with the aid of minimal labor can still meet high volume demands
Fully Automated Assembly  |  For programs with very high volume and 100% dimensional inspection, automated assembly is best. With central software, SPC data, in-line cameras and ability to run 24/7, We can help you develop a customized solution for your product
Each option is customizable to meet customer production needs.
ASSEMBLY SERVICES
Coatings
Component assembly
Crimping
Heat staking
Joining
Welding

Laser welding
Resistance welding
Ultrasonic
CUSTOM ASSEMBLY
Components can be assembled in a variety of different ways, and custom assembly operations are developed with the customer to provide the most efficient and cost effective operation.
While fully automated assemblies offer lower labor costs and a faster concept to market ready capability, semi automated and manual assemblies have proven to be a better production solution for different qualification and volume needs. Upon contacting us, we can assist you in choosing the best option for your product and industry standards.
Manual assembly lines meet the same standards for quality and accuracy through rigid SOP's and extensive training.
CUSTOM QUALITY
ZenaTech uses automated inspection equipment where possible to achieve a truly thorough inspection. Utilizing in line cameras allows for real time dimensional data and a 100% detection, ensuring a defect free product reel after reel. Force testing, electrical testing, and hard gauges are used to test the functionality of all products. When the use of automated equipment is not possible, inspection is done utilizing CMM technology. Our stamping press rooms are equipped with OGP Smartscopes on the floor, while  our molding facilities utilize Zeiss CMM technology for in process inspection.
Quality is further achieved with networked inspection systems capable of collecting SPC data, which is then analyzed through SPC specific software in order to achieve capable processes that the customer requires. A central software system monitors all production, helping to guarantee efficient operations.
DESIGN FOR MANUFACTURING
ZenaTech modifies the system to meet part volumes and qualifications.
Maximize material usage to keep cost down
Automate processes when possible
Application specification
We also provide comprehensive services for metal stamping, insert molding, and prototyping.